Caitlin Edwards
Caitlin Edwards is a Recruiting Coordinator. She supports the recruiting and staffing team and manages all social media and advertising for InSearch. Prior to joining the team, she has over six years' experience in commodity trading and retail management.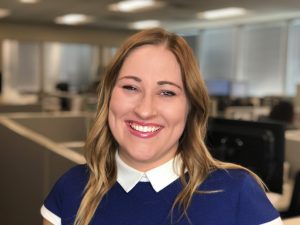 Joined InSearch – 2016
First Job- Opening mail at World Insurance. Mail time has always been my favorite time of day!
Favorite Hobby- Getting swole at Crossfit
Dream Vacation- Ireland
Favorite Food- Sushi, Tacos, Pizza (in that order)
Favorite Show- COPS!
Pet Peeve- Mean people
Food I hate- Olives (even when you pick them off of foods you always taste them!)
Hidden Talent-I am pretty good at puns and dad jokes!
One thing people would be surprised to know- I drove from Alaska to Nebraska all by myself. It took me 6 days and I thought I was going to crash off the mountain!